Luxury two plus one-bedroom penthouse near Hilton Park Hotel in Engomi with private swimming pool
ΠΟΛΥΤΕΛΗΣ ΔΙΑΜΕΡΙΣΜΑ 2 ΣΥΝ 1-ΥΠΝΟΔΩΜΑΤΙΩΝ ΣΤΗΝ ΕΓΚΩΜΗ ΜΕ ΙΔΙΩΤΙΚΗ ΠΙΣΙΝΑ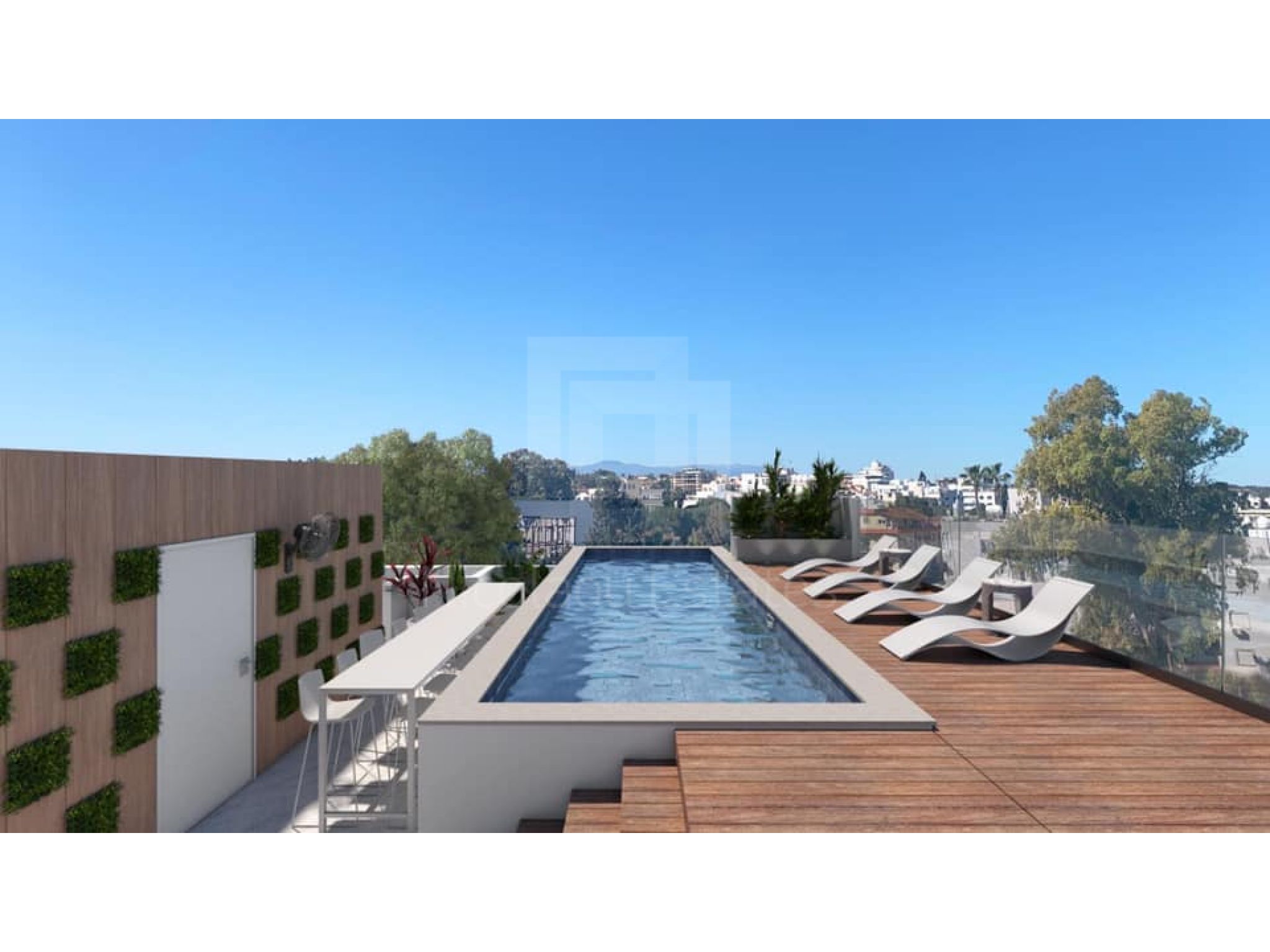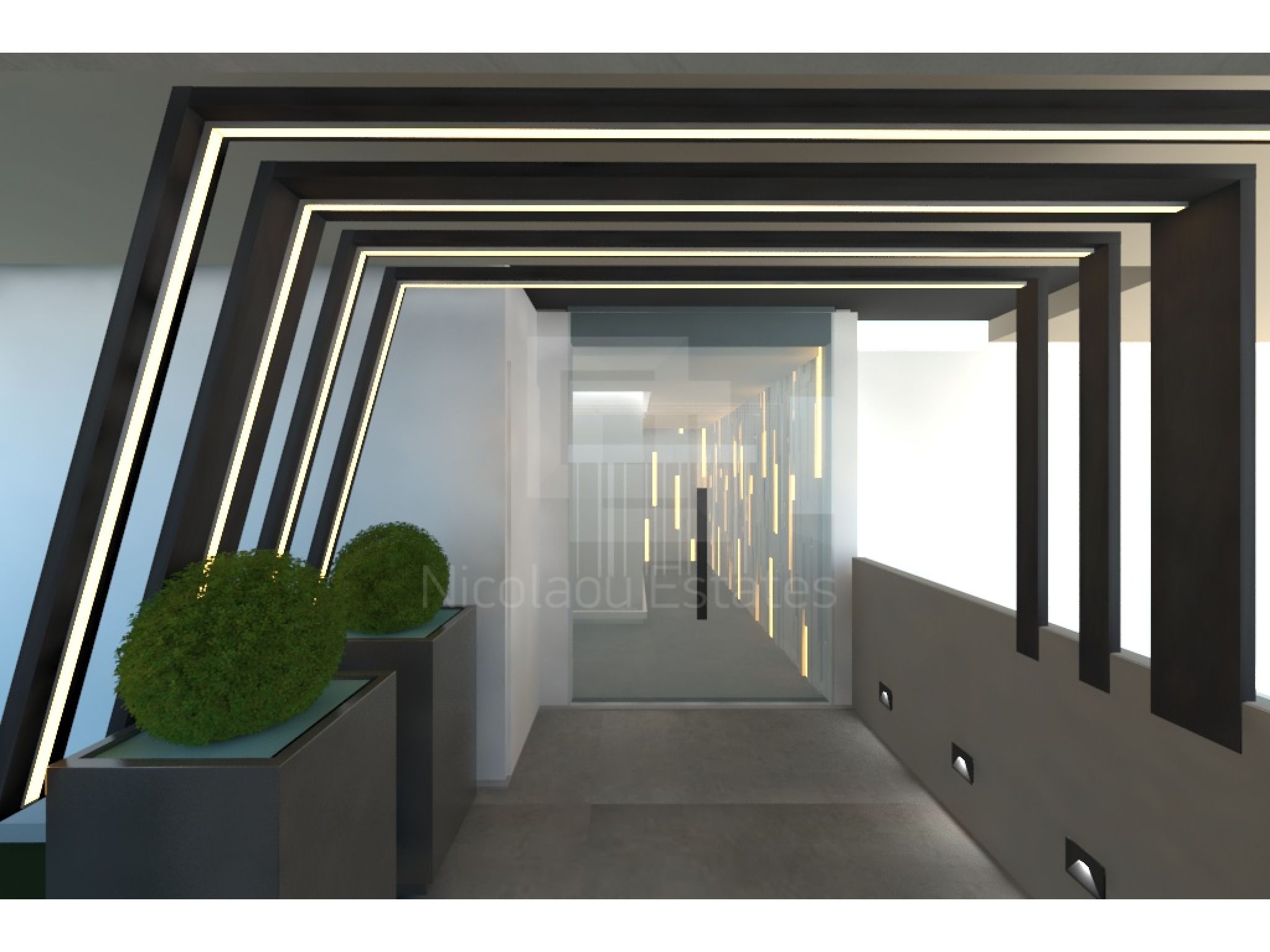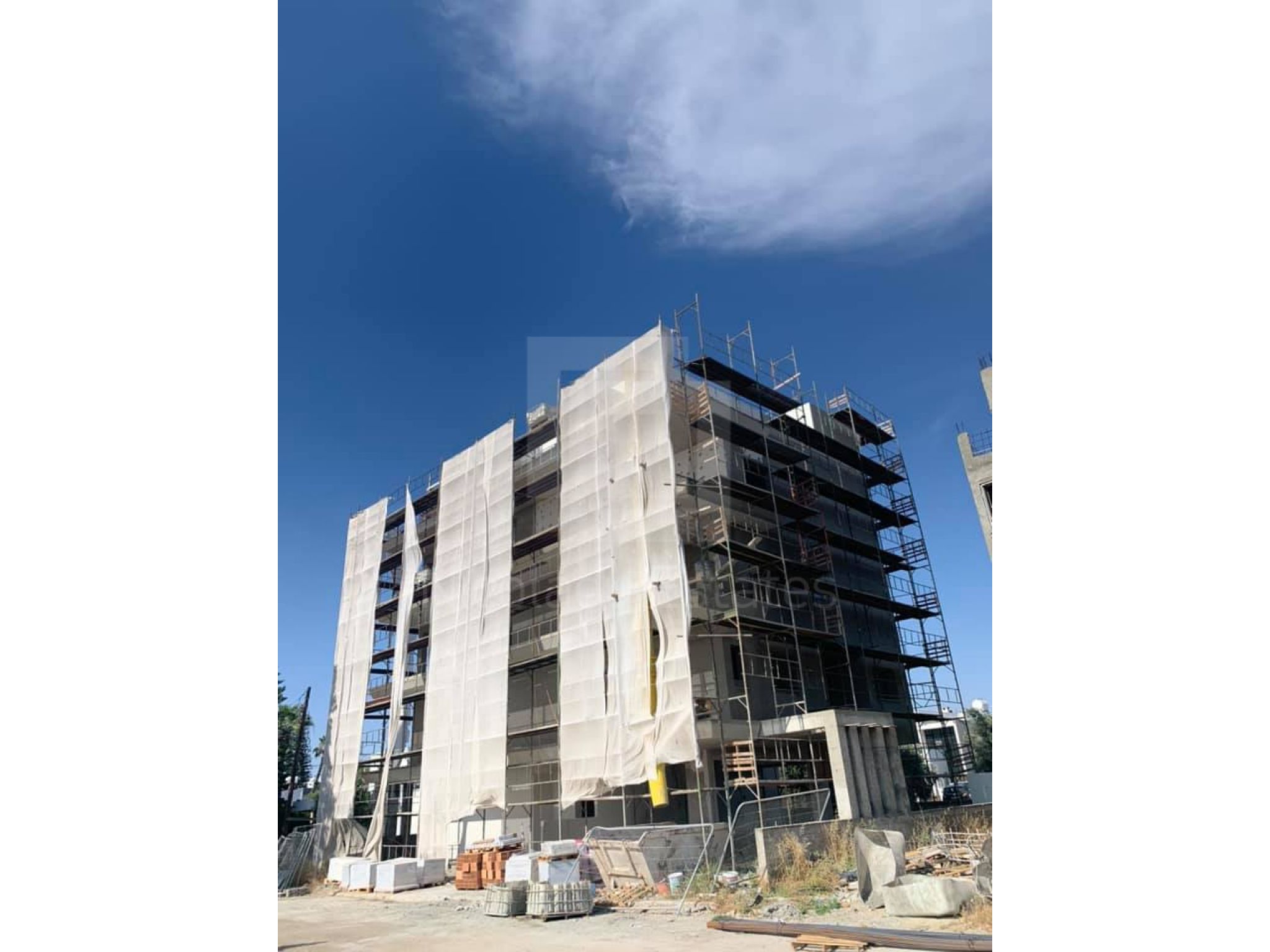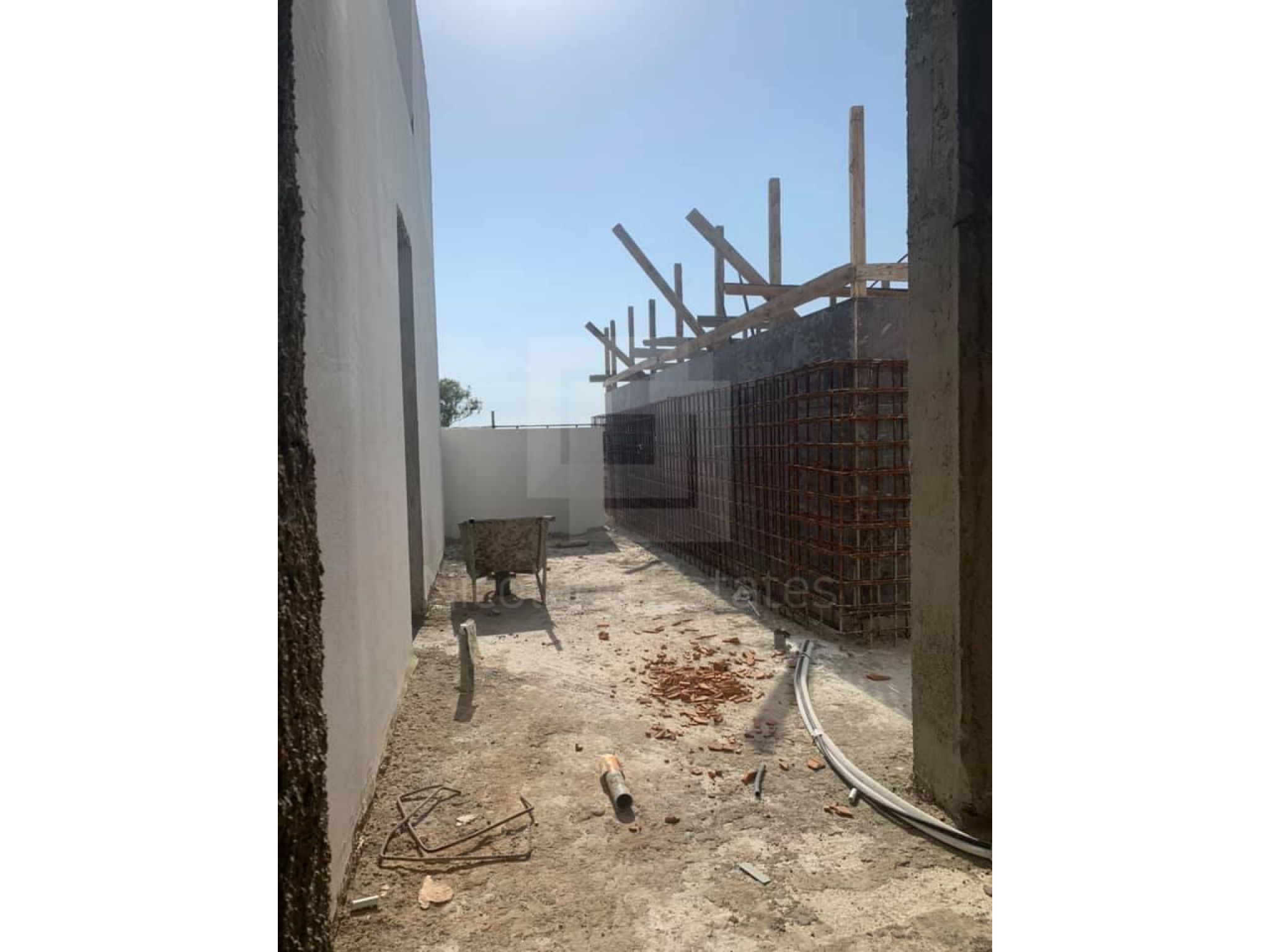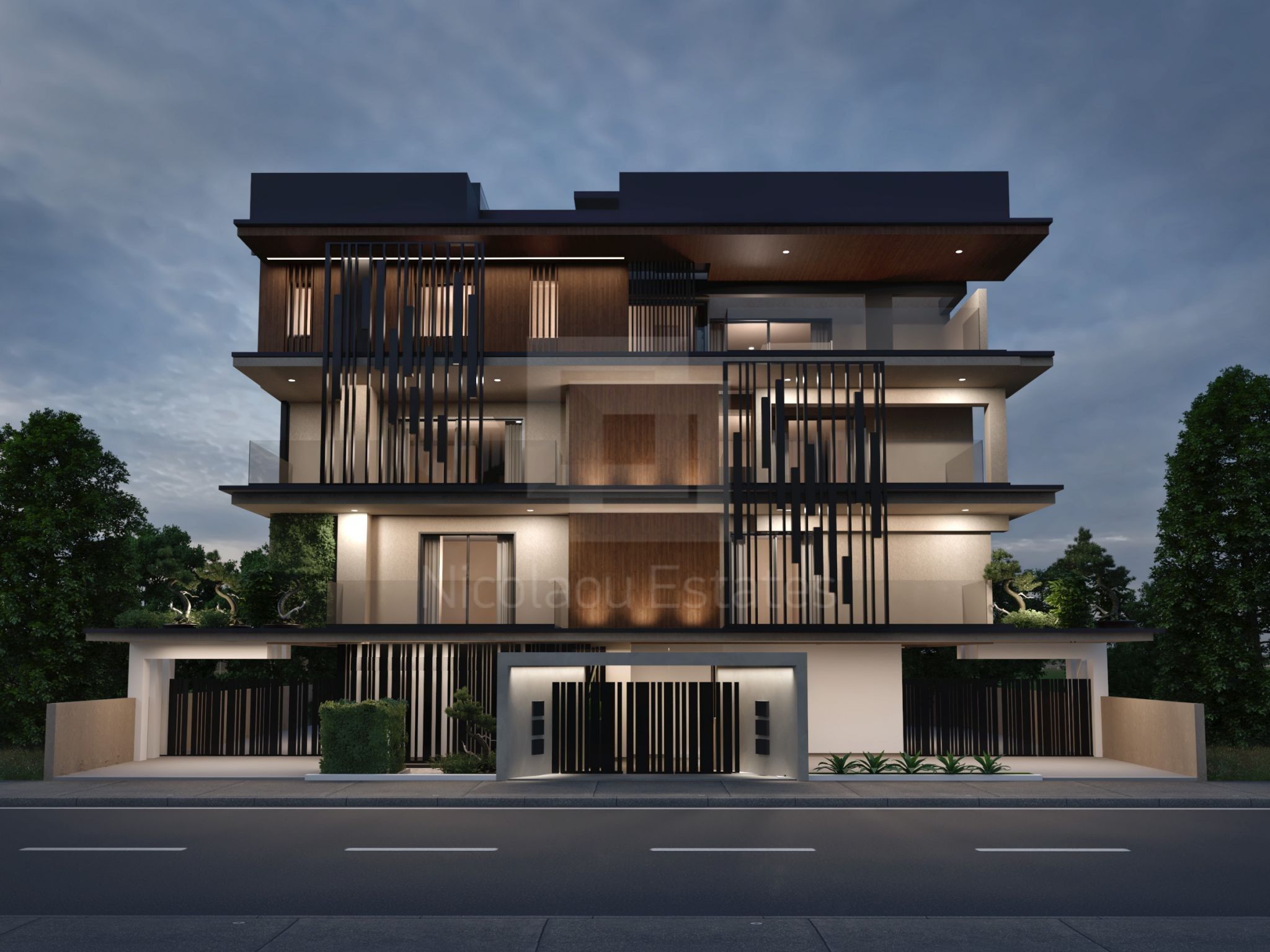 Total Floors:
3 (Floor No.: 3)
29
2
246
Completion Date:
October 2021
Covered Internal Area:
120 m2
Download 7 property images
DESCRIPTION
Available only the penthouse of  of  120 sq.m indoor covered areas.
The apartment consists of 2 bedrooms plus 1 bedroom on the roof garden which can be used as an office, or separate bedroom or Maids room. 

It comes with a private swimming pool, underfloor heating,   roof patio 77 sq.m with BBQ area, alarm system and CCTV. It has also blinds in the bedrooms and ceiling fans. And there is a smart home automation as well. 
---
Διαθέσιμο μόνο το ρετιρέ διαμέρισμα 120τμ. 
Το διαμέρισμα αποτελείται από 2 υπνοδωμάτια συν 1 υπνοδωμάτιο στο roof garden που μπορεί να χρησιμοποιηθεί ως γραφείο ή ξεχωριστό υπνοδωμάτιο ή δωμάτιο υπηρεσίας.

Το διαμέρισμα διαθέτει ιδιωτική πισίνα,υποδαπεδια θερμανση  αίθριο οροφής 77τμ. με ψησταριά. Διαθέτει επίσης σύστημα συναγερμού και CCTV, blinds στα παράθυρα των υπνοδωματίων και ανεμιστήρες οροφής. Επιπλεον διαθετει αυτοματισμους με  λειτουργεια smart home . 
MAIN PROPERTY FEATURES
Brand New
Central Heating
Garage / Designated Parking
Resale
Security System
Unfurnished
Available: October 2021
COMMUNAL FEATURES
This 3-bedroom apartment in Engomi, Nicosia is being offered for sale at EUR 330.000 (VAT not included).
Other property suggestions
VL17468
Strovolos, Nicosia
3 Bed Apartment For Sale
ΡΕΤΙΡΕ ΔΙΑΜΕΡΙΣΜΑ ΤΡΙΩΝ ΥΠΝΟΔΩΜΑΤΙΩΝ ΜΕ 2 ΧΩΡΟΥΣ ΣΤΑΘΜΕΥΣΗΣ & 135 Τ.Μ. ΒΕΡΑΝΤΕΣ ΣΤΟΝ ΣΤΡΟΒΟΛΟ
EUR 380.000
For internal use only:
50CHPI
VL17440
Strovolos, Nicosia
3 Bed Apartment For Sale
ΤΡΙΑ ΥΠΝΟΔΩΜΑΤΙΑ ΡΕΤΙΡΕ ΔΙΑΜΕΡΙΣΜΑ ΣΤΟΝ ΣΤΡΟΒΟΛΟ ΜΕ ΙΔΙΩΤΙΚΗ ΠΙΣΙΝΑ
EUR 360.000
For internal use only:
50CHPI
VL17391
Aglantzia, Nicosia
3 Bed Apartment For Sale
ΤΡΙΩΝ ΥΠΝΟΔΩΜΑΤΙΩΝ ΔΙΑΜΕΡΙΣΜΑ ΣΕ ΚΑΙΝΟΥΡΙΟ ΕΡΓΟ ΣΤΗΝ ΑΓΛΑΝΤΖΙΑ
EUR 303.000
For internal use only:
50CHPI
VL17384
Town Center, Nicosia
2 Bed Apartment For Sale
ΔΥΟ ΥΠΝΟΔΩΜΑΤΙΩΝ ΔΙΑΜΕΡΙΣΜΑ ΣΤΗΝ ΠΕΡΙΟΧΗ ΤΡΥΠΙΩΤΗ ΚΟΝΤΑ ΣΕ ΟΛΕΣ ΤΙΣ ΥΠΗΡΕΣΙΕΣ
EUR 323.000
For internal use only:
50CHPI
VL17279
Dasoupolis, Nicosia
3 Bed Apartment For Sale
3 ΥΠΝΟΔΩΜΑΤΙΑ ΡΕΤΙΡΕ ΟΡΟΦΟ-ΔΙΑΜΕΡΙΣΜΑ ΜΕ ΠΑΝΟΡΑΜΙΚΗ ΘΕΑ ΤΗΝ ΠΟΛΗ ΣΤΗ ΠΕΡΙΟΧΗ ΔΑΣΟΥΠΟΛΗ
EUR 380.000
For internal use only:
50CHPI
VL17259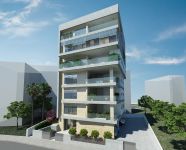 Acropoli, Nicosia
2 Bed Apartment For Sale
ΠΟΛΥΤΕΛΗΣ ΟΡΟΦΟ-ΔΙΑΜΕΡΙΣΜΑ 2 ΥΠΝΟΔΩΜΑΤΙΩΝ ΣΤΗΝ ΑΚΡΟΠΟΛΗ ΚΟΝΤΑ ΣΤΟ ΞΕΝΟΔΟΧΕΙΟ LANDMARK
EUR 350.000
For internal use only:
50CHPI
VL17195
Strovolos, Nicosia
3 Bed Apartment For Sale
ΔΙΑΜΕΡΙΣΜΑ ΤΡΙΩΝ ΥΠΝΟΔΩΜΑΤΙΩΝ ΣΤΟΝ ΣΤΡΟΒΟΛΟ ΜΕ ΙΔΙΩΤΙΚΟ ΚΗΠΟ ΟΡΟΦΗΣ
EUR 320.000
For internal use only:
50CHPI
VL17156
Likavitos, Nicosia
3 Bed Apartment For Sale
ΠΟΛΥΤΕΛΗΣ ΔΙΑΜΕΡΙΣΜΑ ΤΡΙΩΝ ΥΠΝΟΔΩΜΑΤΙΩΝ ΣΤΟΝ ΛΥΚΛΑΒΗΤΟ ΜΕ 2 ΧΩΡΟΥΣ ΣΤΑΘΜΕΥΣΗΣ
EUR 325.000
For internal use only:
47CHCH
VL16892
Strovolos, Nicosia
2 Bed Apartment For Sale
ΡΕΤΙΡΕ ΔΙΑΜΕΡΙΣΜΑ ΔΥΟ ΥΠΝΟΔΩΜΑΤΙΩΝ ΜΕ ΥΠΕΡΟΧΟ ROOF GARDEN 60τμ ΣΤΟ ΣΤΡΟΒΟΛΟ
EUR 335.000
For internal use only:
47CHCH
VL16775
Aglantzia, Nicosia
4 Bed Apartment For Sale
ΔΥΟ ΟΡΟΦΩΝ ΔΙΑΜΕΡΙΣΜΑ ΤΕΣΣΑΡΩΝ ΥΠΝΟΔΩΜΑΤΙΩΝ ΣΤΗΝ ΑΓΛΑΝΤΖΙΑ ΜΕ 113 Τ.Μ. ΒΕΡΑΝΤΕΣ
EUR 345.000
For internal use only:
47CHCH
VL16503
Acropoli, Nicosia
3 Bed Apartment For Sale
ΚΑΙΝΟΥΡΙΟ ΔΙΑΜΕΡΙΣΜΑ ΤΡΙΩΝ ΥΠΝΟΔΩΜΑΤΙΩΝ ΣΤΗ ΠΕΡΙΟΧΗ ΑΚΡΟΠΟΛΗ ΣΤΗ ΛΕΥΚΩΣΙΑ
EUR 339.000
For internal use only:
50CHPI
VL16445
Strovolos, Nicosia
3 Bed Apartment For Sale
ΤΡΙΩΝ ΥΠΝΟΔΩΜΑΤΙΩΝ ΔΙΑΜΕΡΙΣΜΑ ΣΤΟ ΣΤΡΟΒΟΛΟ ΜΕ ΤΖΑΚΙ
EUR 304.000
For internal use only:
50CHPI
VL16129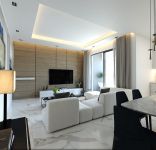 Palouriotissa, Nicosia
3 Bed Apartment For Sale
ΤΡΙΩΝ ΥΠΝΟΔΩΜΑΤΙΩΝ ΔΙΑΜΕΡΙΣΜΑ ΜΕ ΠΟΛΥ ΜΕΓΑΛΕΣ ΒΕΡΑΝΤΕΣ ΣΤΗ ΠΑΛΟΥΡΙΩΤΙΣΣΑ
EUR 380.000
For internal use only:
50CHPI
VL16047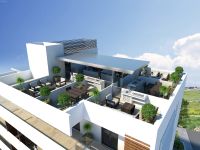 Strovolos, Nicosia
3 Bed Apartment For Sale
ΤΡΙΑ ΥΠΝΟΔΩΜΑΤΙΑ ΔΙΑΜΕΡΙΣΜΑ ΜΕ ΕΠΙΛΟΓΗ ΓΙΑ ΚΗΠΟ ΟΡΟΦΗΣ Σ'ΕΝΑ ΜΟΝΤΕΡΝΟ ΚΤΗΡΙΟ ΣΤΟΝ ΣΤΡΟΒΟΛΟ
EUR 360.000
For internal use only:
50CHPI
VL15942
Strovolos, Nicosia
3 Bed Apartment For Sale
ΠΟΛΥΤΕΛΕΣ ΡΕΤΙΡΕ ΤΡΙΩΝ ΥΠΝΟΔΩΜΑΤΙΩΝ ΜΕ ΚΗΠΟ ΟΡΟΦΗΣ ΣΤΟΝ ΣΤΡΟΒΟΛΟ
EUR 310.000
For internal use only:
50CHPI
VL15743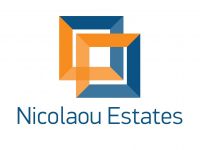 Engomi, Nicosia
3 Bed Apartment For Sale
ΤΡΙΑ ΥΠΝΟΔΩΜΑΤΙΑ ΔΙΑΜΕΡΙΣΜΑ ΣΤΗΝ ΕΓΚΩΜΗ ΜΕ ΥΠΟΔΑΠΕΔΙΑ ΘΕΡΜΑΝΣΗ
EUR 359.640
For internal use only:
57GEAL