Luxury three bedroom house, plus a playroom & landscaped gardens in Pano Deftera
ΠΟΛΥΤΕΛΗΣ ΚΑΤΟΙΚΙΑ ΤΡΙΩΝ ΥΠΝΟΔΩΜΑΤΙΩΝ ΜΕ PLAYROOM & ΚΗΠΟ ΣΤΗΝ ΠΑΝΩ ΔΕΥΤΕΡΑ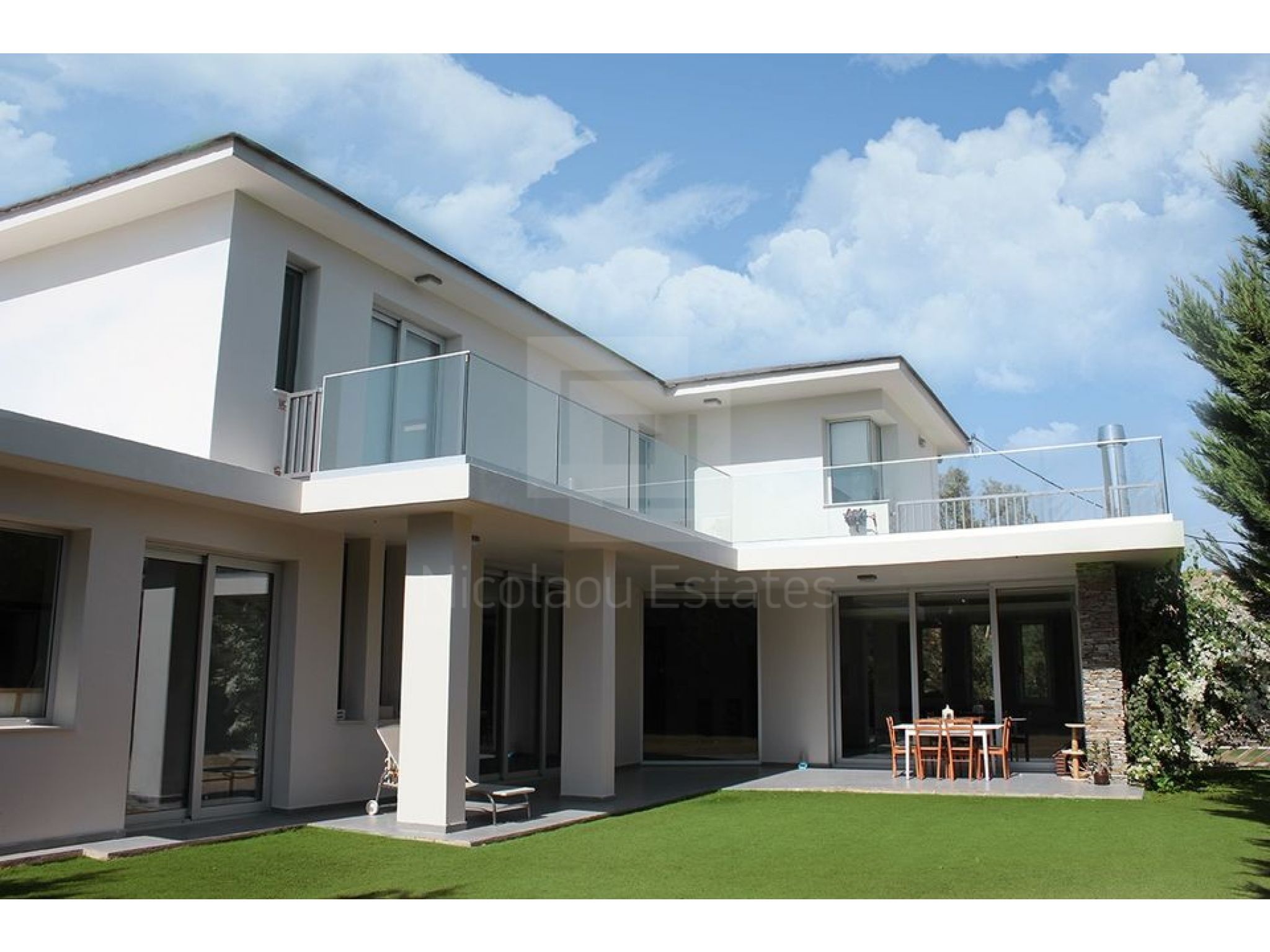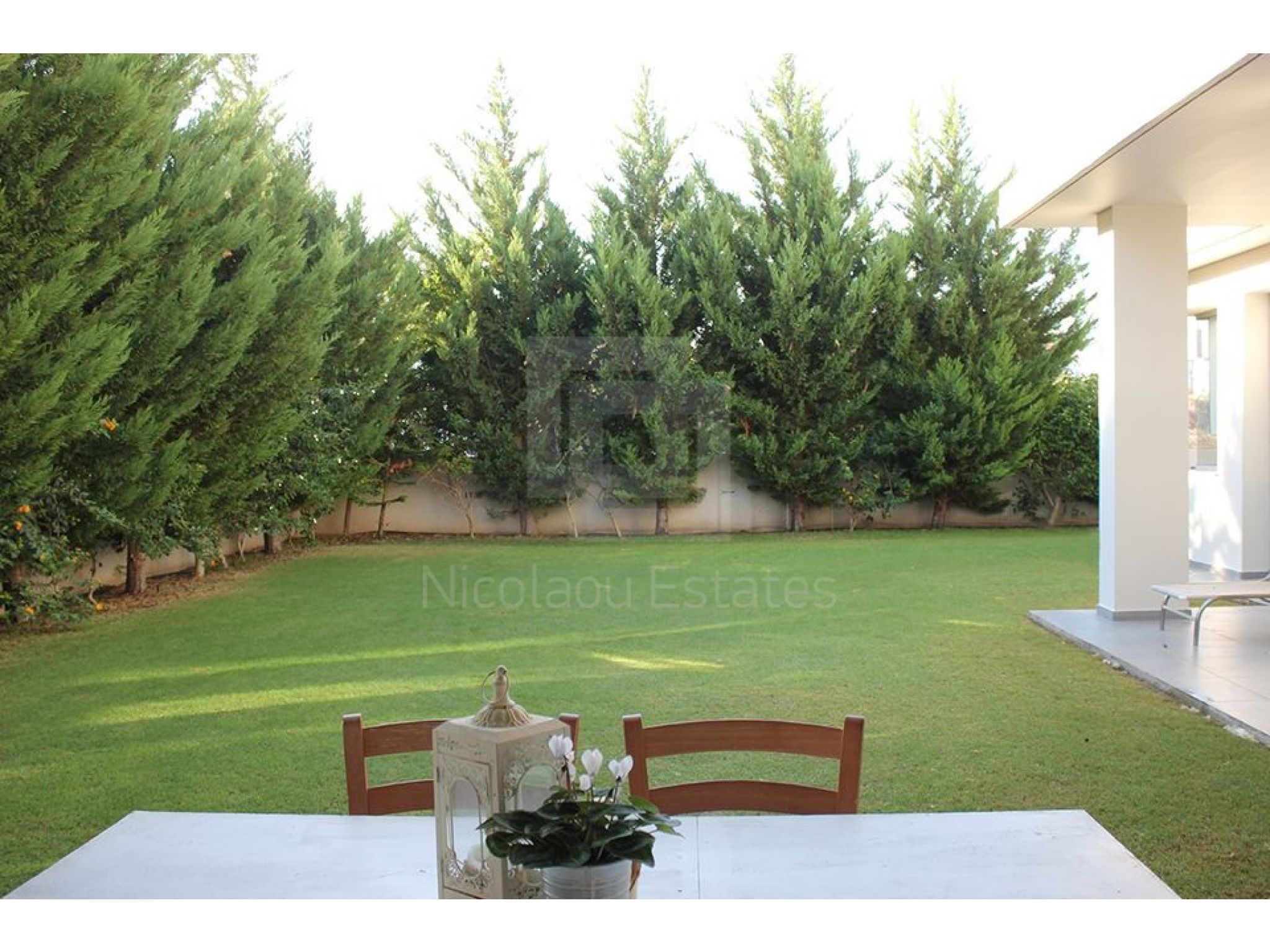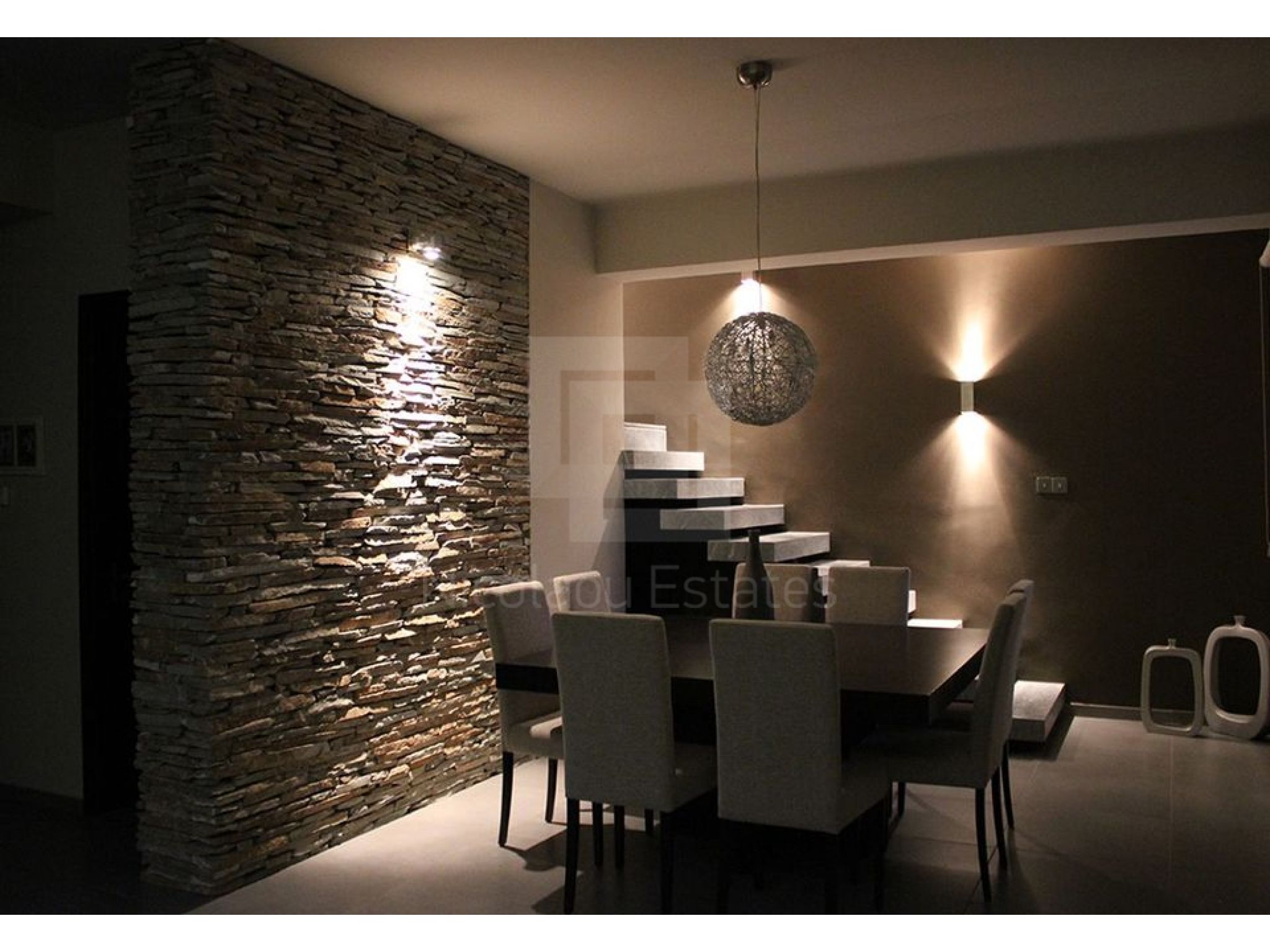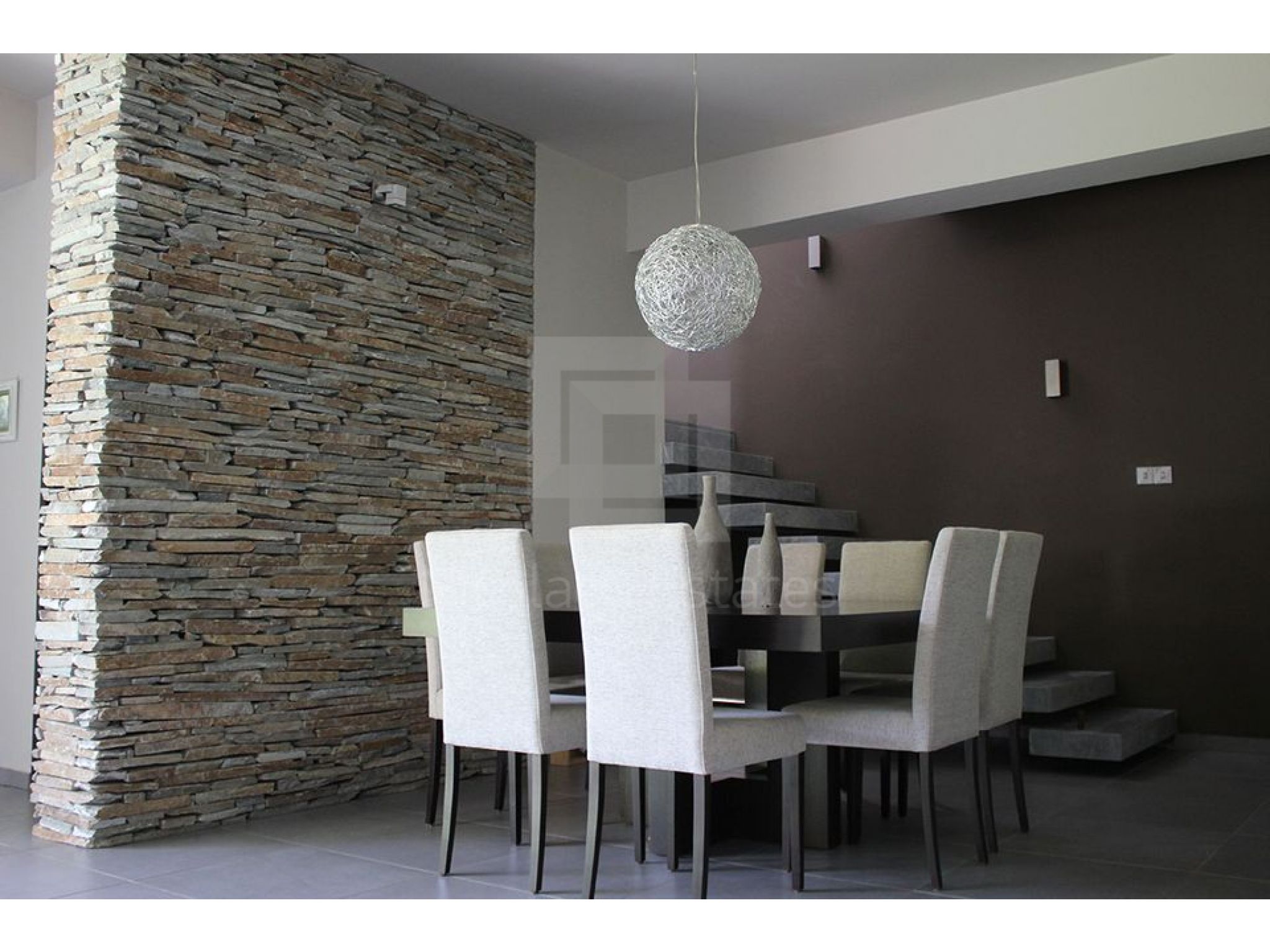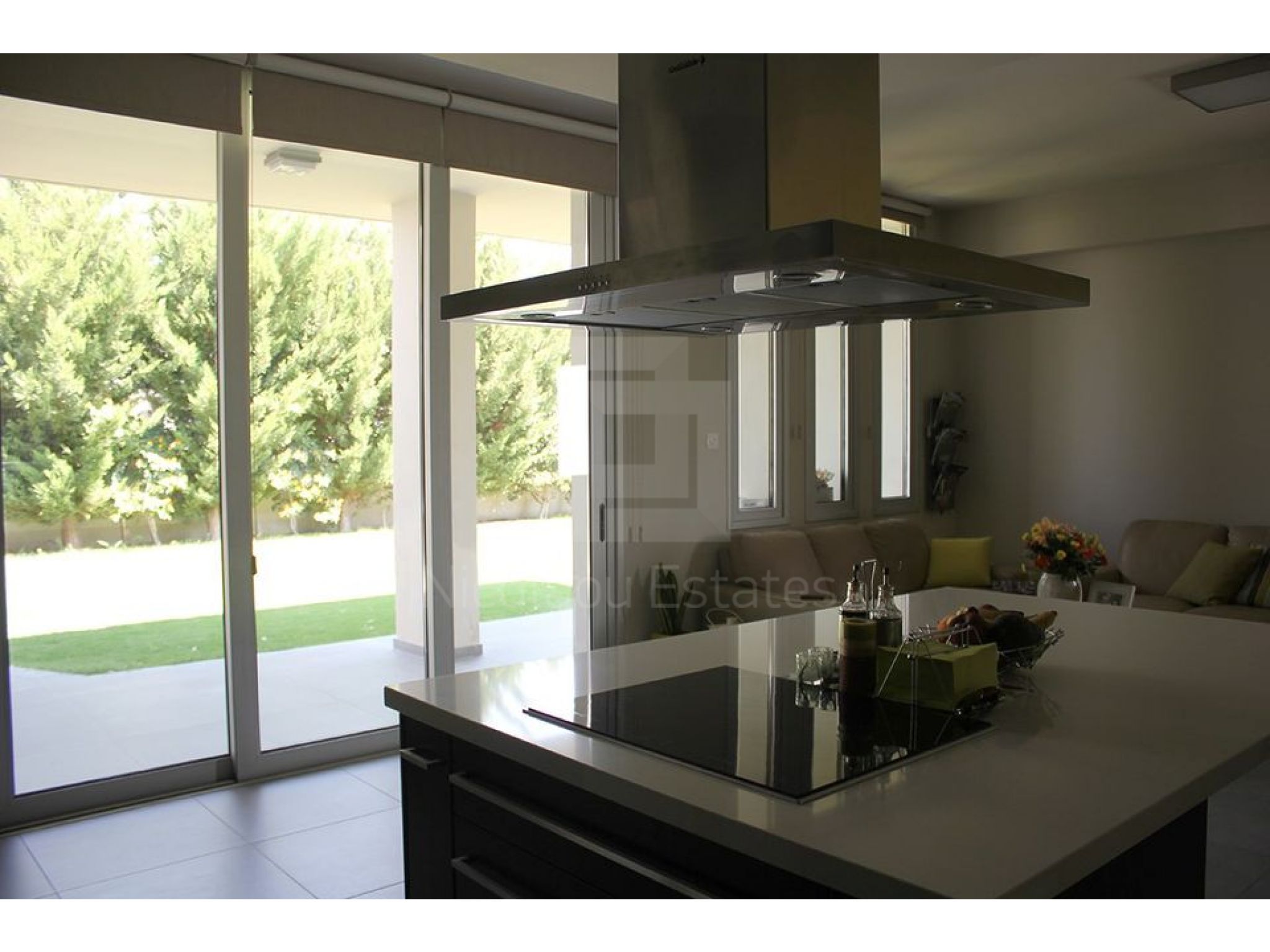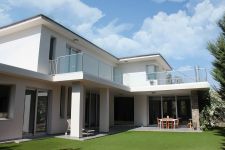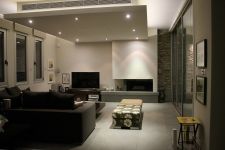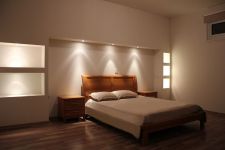 31
2
228
Covered Internal Area:
220 m2
Download 12 property images
DESCRIPTION
Luxury and modern, fully furnished 3 bedroom detached house with a downstairs office/playroom. Built on a full plot decorated with wood and stone elements. Located in a nice quiet neighborhood, at a new countryside residential area in Pano Deftera opposite a park and near Grammar School.
The ground floor consists of a spacious open plan kitchen including separate food storage room, connecting to a large living-dining room with a modern fireplace. The house also has a large office or playroom which can be used as a 4th bedroom.
The house overlooks a landscaped grass garden surrounded by cypress trees and flowers. There is also a large storage room at the back of the house.
The first floor consists of an en-suite master bedroom with shower (rain system) walk-in wardrobe and another 2 bedrooms sharing a large bathroom. All bedrooms have parquet flooring. A large veranda overlooks the garden.
FEATURES:
- Blinds on all windows
- Covered parking with automatic garage door
- Storage room

- Top quality electrical appliances: Induction ceramic cooker, oven, dishwasher, fridge, induction kitchen ventilator

- Alarm System

- Underfloor heating (gas), Inverter A/C in all areas

- Thermal window frames and glasses, thermal insulated walls and foundation

- Water pressure, water cycle

- Automatic watering system on the garden

- Well equipped with electric pump/auto-irrigation system 
- Title deeds available for smooth transfer 
---
Πολυτελής και μοντέρνα, πλήρως επιπλωμένη μονοκατοικία 3 υπνοδωματίων με γραφείο / playroom στον κάτω όροφο. Χτισμένο σε πλήρες οικόπεδο διακοσμημένο με στοιχεία από ξύλο και πέτρα. Βρίσκεται σε μια όμορφη ήσυχη γειτονιά, σε μια νέα κατοικημένη περιοχή στην Πάνω Δευτερά απέναντι από πάρκο και κοντά στo Grammar School.
Το ισόγειο αποτελείται από μια ευρύχωρη κουζίνα ενιαίας διαρρύθμισης που περιλαμβάνει ξεχωριστή αποθήκη τροφίμων, που συνδέεται με ένα μεγάλο σαλόνι-τραπεζαρία με μοντέρνο τζάκι. Το σπίτι διαθέτει επίσης ένα μεγάλο γραφείο ή playroom που μπορεί να χρησιμοποιηθεί ως 4ο υπνοδωμάτιο.
Το σπίτι έχει θέα σ' έναν διαμορφωμένο κήπο με γρασίδι που περιβάλλεται από κυπαρίσσια και λουλούδια. Υπάρχει επίσης μια μεγάλη αποθήκη στο πίσω μέρος του σπιτιού.
Ο πρώτος όροφος αποτελείται από ένα ιδιωτικό υπνοδωμάτιο με ντουλάπα, ντους (σύστημα βροχής) και άλλα 2 υπνοδωμάτια που μοιράζονται ένα μεγάλο μπάνιο. Όλα τα υπνοδωμάτια έχουν παρκέ δάπεδο. Μεγάλη βεράντα με θέα στον κήπο.
ΧΑΡΑΚΤΗΡΙΣΤΙΚΑ:
- περσίδες σε όλα τα παράθυρα
- Κλειστό πάρκινγκ με αυτόματη πόρτα γκαράζ
- Αποθήκη
- Ηλεκτρικές συσκευές κορυφαίας ποιότητας: Επαγωγική κεραμική κουζίνα, φούρνος, πλυντήριο πιάτων, ψυγείο, επαγωγικός αναπνευστήρας κουζίνας
- Σύστημα συναγερμού
- Ενδοδαπέδια θέρμανση (αέριο), A / C μετατροπέα σε όλες τις περιοχές
- Θερμικά κουφώματα και γυαλιά, θερμομονωτικοί τοίχοι και θεμέλια
- Πίεση νερού, κύκλος νερού
- Αυτόματο σύστημα ποτίσματος στον κήπο
- Καλά εξοπλισμένο με ηλεκτρική αντλία / σύστημα αυτόματης άρδευσης
- τιτλος ιδιοκτησιας διαθεσιμος για αμεση μεταβιβαση 
MAIN PROPERTY FEATURES
Central Heating
Fireplace
Fully Furnished
Garage / Designated Parking
Garden
Resale
Unfurnished
This 3-bedroom house in Pano Deftera, Nicosia is being offered for sale at EUR 510.000 (VAT not included).
Other property suggestions
VL16829
Makedonitissa, Nicosia
3 Bed House For Sale
ΠΟΛΥΤΕΛΗΣ ΚΑΤΟΙΚΙΑ ΤΡΙΩΝ ΥΠΝΟΔΩΜΑΤΙΩΝ ΣΤΗΝ ΜΑΚΕΔΟΝΙΤΙΣΣΑ ΜΕ ΦΩΤΟΒΟΛΤΑΪΚΟ ΣΥΣΤΗΜΑ
EUR 470.000
For internal use only:
50CHPI
VL16618
Aglantzia, Nicosia
4 Bed House/Detached For Sale
ΕΝΤΥΠΩΣΙΑΚΟ ΣΠΙΤΙ ΤΕΣΣΑΡΩΝ ΥΠΝΟΔΩΜΑΤΙΩΝ ΣΕ ΠΡΟΝΟΜΙΑΚΗ ΠΕΡΙΟΧΗ ΣΤΗΝ ΑΓΛΑΝΤΖΙΑ
EUR 490.000
For internal use only:
50CHPI
VL16609
Strovolos, Nicosia
4 Bed House For Sale
EUR 650.000
For internal use only:
16MANI
VL16608
Strovolos, Nicosia
3 Bed House/Detached For Sale
EUR 550.000
For internal use only:
16MANI
VL15744
Lakatamia, Nicosia
3 Bed House/Detached For Sale
ΠΟΛΥΤΕΛΗ ΟΙΚΙΑ ΤΡΙΩΝ ΥΠΝΟΔΩΜΑΤΙΩΝ ΜΕ ΚΗΠΟ & ΙΔΙΩΤΙΚΗ ΠΙΣΙΝΑ ΔΙΠΛΑ ΑΠΟ ΧΩΡΟ ΠΡΑΣΙΝΟΥ ΣΤΗ ΠΕΡΙΟΧΗ ΣΤΕΛΜΕΚ
EUR 530.000
For internal use only:
50CHPI
VL15415
Geri, Nicosia
4 Bed House For Sale
ΜΟΝΤΕΡΝΟ ΣΠΙΤΙ ΤΕΣΣΑΡΩΝ ΥΠΝΟΔΩΜΑΤΙΩΝ ΣΤΟ ΓΕΡΗ ΣΕ ΑΠΟΣΤΑΣΗ ΜΕ ΤΑ ΠΟΔΙΑ ΑΠΟ ΤΟ ΠΑΡΚΟ ΑΘΑΛΑΣΣΑΣ
EUR 485.000
For internal use only:
57GEAL
VL15405
Strovolos, Nicosia
4 Bed House/Detached For Sale
ΠΟΛΥΤΕΛΗΣ ΣΠΙΤΙ ΤΕΣΣΑΡΩΝ ΥΠΝΟΔΩΜΑΤΙΩΝ ΜΕ ΚΗΠΟ & ΙΔΙΩΤΙΚΗ ΠΙΣΙΝΑ ΣΤΟΝ ΣΤΡΟΒΟΛΟ
EUR 585.000
For internal use only:
57GEAL
VL15000
Latsia, Nicosia
3 Bed House/Detached For Sale
ΤΡΙΑ ΥΠΝΟΔΩΜΑΤΙΑ ΣΠΙΤΙ ΜΕ ΙΔΙΩΤΙΚΗ ΠΙΣΙΝΑ ΚΟΝΤΑ ΣΤΗΝ ΛΕΟΦΩΡΟ ΜΑΚΑΡΙΟΥ & ΚΟΝΤΑ ΣΕ ΟΛΕΣ ΤΙΣ ΥΠΗΡΕΣΙΕΣ
EUR 565.000
For internal use only:
50CHPI