Two bedroom apartment near of many amenities in Agioi Omologites
ΔΙΑΜΕΡΙΣΜΑ 2 ΥΠΝΟΔΩΜΑΤΙΩΝ ΚΟΝΤΑ ΣΕ ΠΟΛΛΕΣ ΥΠΗΡΕΣΙΕΣ ΣΤΟΥΣ ΑΓΙΟΥΣ ΟΜΟΛΟΓΗΤΕΣ
Total Floors:
4 (Floor No.: 2)
29
2
397
Covered Internal Area:
94 m2
Download 1 property image
DESCRIPTION
This project is located in a good area of Agioi Omologites with easy access to Makarios Avenue and near of many amenities. Excellent project with all the specifications of a modern building.
FEATURES:
- CENTRAL HEATING (Supply & Installation): Provision for Underfloor Heating for each apartment with Heat Pump.
- ALARM SYSTEM (Supply & Installation): Complete Alarm System for each apartment.
- VIDEO DOOR PHONE
- AIR CONDITIONERS (Supply & Installation for each room): Living Room: VRV System. Bedrooms : Split Units
- PARKING AREA: The parking place will have rubbed finish concrete. Full provision for Electric Cars Chargers
- 1 PARKING
- PHOTOVOLTAIC PANELS
- CERTIFICATION: Certificate of Energy efficiency A . After completion of the residence a certificate of energy efficiency will be given.
- STORAGE

- 26 SQ.M COVERED VERANDA
- 1 BATHROOM EN-SUITE IN MASTER BEDROOM

---
Αυτό το καινούριο έργο βρίσκεται σε πολύ καλή περιοχή των Αγίων Ομολογητών (Κεντρική Τράπεζα) με εύκολη πρόσβαση στην Λεωφ. Μακαρίου και κοντά σε όλες τις υπηρεσίες. Εξαιρετικό έργο με όλες τις προδιαγραφές μιας σύγχρονης οικοδομής.
ΧΑΡΑΚΤΗΡΙΣΤΙΚΑ:
- ΚΕΝΤΡΙΚΗ ΘΕΡΜΑΝΣΗ (Προμήθεια & εγκατάσταση): Πρόβλεψη για ενδοδαπέδια θέρμανση για κάθε διαμέρισμα με αντλία θερμότητας.
- ΣΥΣΤΗΜΑ ΣΥΝΑΓΕΡΜΟΥ (Προμήθεια & Εγκατάσταση): Πλήρες σύστημα συναγερμού για κάθε διαμέρισμα.
- ΒΙΝΤΕΟ ΘΥΡΟΤΗΛΕΦΩΝΟ
- ΚΛΙΜΑΤΙΣΜΟΣ  (Προμήθεια & Εγκατάσταση για κάθε δωμάτιο): Σαλόνι: Σύστημα VRV. Υπνοδωμάτια: Split Units
- ΠΕΡΙΟΧΗ ΠΑΡΚΙΝΓΚ: Ο χώρος στάθμευσης θα έχει σκυρόδεμα. Πλήρης πρόβλεψη για φορτιστές ηλεκτρικών αυτοκινήτων.
- 1 ΘΕΣΗ ΣΤΑΘΜΕΥΣΗΣ
- ΦΩΤΟΒΟΛΤΑΪΚΑ
- ΠΙΣΤΟΠΟΙΗΣΗ: Πιστοποιητικό ενεργειακής απόδοσης A . Μετά την ολοκλήρωση της κατοικίας θα δοθεί πιστοποιητικό ενεργειακής απόδοσης
- 1 ΑΠΟΘΗΚΗ
- 26 Τ.Μ. ΚΑΛΥΜΜΕΝΗ ΒΕΡΑΝΤΑ
- 1 ΜΠΑΝΙΟ ΣΤΟ ΚΥΡΙΩΣ ΥΠΝΟΔΩΜΑΤΙΟ
MAIN PROPERTY FEATURES
Brand New
Central Heating
Garage / Designated Parking
Security System
Unfurnished
This 2-bedroom apartment in Agioi Omologites, Nicosia is being offered for sale at EUR 265.000 (VAT not included).
Other property suggestions
VL17466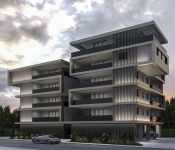 Strovolos, Nicosia
3 Bed Apartment For Sale
ΔΙΑΜΕΡΙΣΜΑ ΤΡΙΩΝ ΥΠΝΟΔΩΜΑΤΙΩΝ ΜΕ 2 ΧΩΡΟΥΣ ΣΤΑΘΜΕΥΣΗΣ ΣΤΟΝ ΣΤΡΟΒΟΛΟ, ΠΕΡΙΟΧΗ ENGLISH SCHOOL
EUR 293.000
For internal use only:
50CHPI
VL17439
Strovolos, Nicosia
3 Bed Apartment For Sale
ΤΡΙΑ ΥΠΝΟΔΩΜΑΤΙΑ ΔΙΑΜΕΡΙΣΜΑ ΣΤΟΝ ΣΤΡΟΒΟΛΟ ΜΕ JACUZZI
EUR 245.000
For internal use only:
50CHPI
VL17391
Aglantzia, Nicosia
3 Bed Apartment For Sale
ΤΡΙΩΝ ΥΠΝΟΔΩΜΑΤΙΩΝ ΔΙΑΜΕΡΙΣΜΑ ΣΕ ΚΑΙΝΟΥΡΙΟ ΕΡΓΟ ΣΤΗΝ ΑΓΛΑΝΤΖΙΑ
EUR 303.000
For internal use only:
50CHPI
VL17384
Town Center, Nicosia
2 Bed Apartment For Sale
ΔΥΟ ΥΠΝΟΔΩΜΑΤΙΩΝ ΔΙΑΜΕΡΙΣΜΑ ΣΤΗΝ ΠΕΡΙΟΧΗ ΤΡΥΠΙΩΤΗ ΚΟΝΤΑ ΣΕ ΟΛΕΣ ΤΙΣ ΥΠΗΡΕΣΙΕΣ
EUR 323.000
For internal use only:
50CHPI
VL17265
Aglantzia, Nicosia
2 Bed Apartment For Sale
ΔΥΟ ΥΠΝΟΔΩΜΑΤΙΑ ΔΙΑΜΕΡΙΣΜΑ ΣΤΟ ΠΛΑΤΥ ΣΤΗΝ ΑΓΛΑΝΤΖΙΑ
EUR 269.000
For internal use only:
50CHPI
VL17258
Latsia, Nicosia
2 Bed Apartment For Sale
ΔΙΑΜΕΡΙΣΜΑ 2 ΥΠΝΟΔΩΜΑΤΙΩΝ ΣΤΑ ΛΑΤΣΙΑ ΜΕ 112 Τ.Μ. ΚΗΠΟ ΟΡΟΦΗΣ
EUR 249.000
For internal use only:
50CHPI
VL17196
Strovolos, Nicosia
2 Bed Apartment For Sale
ΔΙΑΜΕΡΙΣΜΑ 2 ΥΠΝΟΔΩΜΑΤΙΩΝ ΣΤΟΝ ΤΕΛΕΥΤΑΙΟ ΟΡΟΦΟ ΜΕ ΚΗΠΟ ΟΡΟΦΗΣ ΣΤΟΝ ΣΤΡΟΒΟΛΟ
EUR 260.000
For internal use only:
50CHPI
VL17195
Strovolos, Nicosia
3 Bed Apartment For Sale
ΔΙΑΜΕΡΙΣΜΑ ΤΡΙΩΝ ΥΠΝΟΔΩΜΑΤΙΩΝ ΣΤΟΝ ΣΤΡΟΒΟΛΟ ΜΕ ΙΔΙΩΤΙΚΟ ΚΗΠΟ ΟΡΟΦΗΣ
EUR 320.000
For internal use only:
50CHPI
VL17193
Strovolos, Nicosia
3 Bed Apartment For Sale
ΔΙΑΜΕΡΙΣΜΑ ΤΡΙΩΝ ΥΠΝΟΔΩΜΑΤΙΩΝ ΣΤΟΝ ΣΤΡΟΒΟΛΟ ΜΕ ΦΩΤΟΒΟΛΤΑΪΚΟ ΣΥΣΤΗΜΑ
EUR 290.000
For internal use only:
50CHPI
VL17156
Likavitos, Nicosia
3 Bed Apartment For Sale
ΠΟΛΥΤΕΛΗΣ ΔΙΑΜΕΡΙΣΜΑ ΤΡΙΩΝ ΥΠΝΟΔΩΜΑΤΙΩΝ ΣΤΟΝ ΛΥΚΛΑΒΗΤΟ ΜΕ 2 ΧΩΡΟΥΣ ΣΤΑΘΜΕΥΣΗΣ
EUR 325.000
For internal use only:
47CHCH
VL17121
Agioi Omologites, Nicosia
2 Bed Apartment For Sale
ΠΟΛΥΤΕΛΗΣ ΔΙΑΜΕΡΙΣΜΑ 2-ΥΠΝΟΔΩΜΑΤΙΩΝ ΣΤΟΥΣ ΑΓΙΟΥΣ ΟΜΟΛΟΓΗΤΕΣ ΜΕ ΙΔΙΩΤΙΚΟ ΚΗΠΟ ΟΡΟΦΗΣ
EUR 261.000
For internal use only:
50CHPI
VL17060
Engomi, Nicosia
3 Bed Apartment For Sale
ΠΟΛΥΤΕΛΗΣ ΔΙΑΜΕΡΙΣΜΑ 2 ΣΥΝ 1-ΥΠΝΟΔΩΜΑΤΙΩΝ ΣΤΗΝ ΕΓΚΩΜΗ ΜΕ ΙΔΙΩΤΙΚΗ ΠΙΣΙΝΑ
EUR 330.000
For internal use only:
50CHPI